MicroDelta Rework 3D printer
MicroDelta Rework 3D printer
Professional quality, ease of a toy... FINALLY!

LIVRAISON : 24 à 48H / SHIPMENT WITHIN 24-48H
With the success of the µDelta, and based on our five years experience in 3D printer development, the eMotion Tech company is proud to introduce its latest creation : the MicroDelta Rework.
Don't be afraid with technology : well designed, it becomes easily accessible to everyone.
Available add-ons for the MicroDelta Rework :
More videos, pictures and informations to come !
The eMotion Tech company choices :
In a qualitative aim, here are, below, the choices that guided our development, without marketing or commercial language :
A high-end electronic board, developped in France
We have developped a 32 bits electronic board, dedicated to the delta robots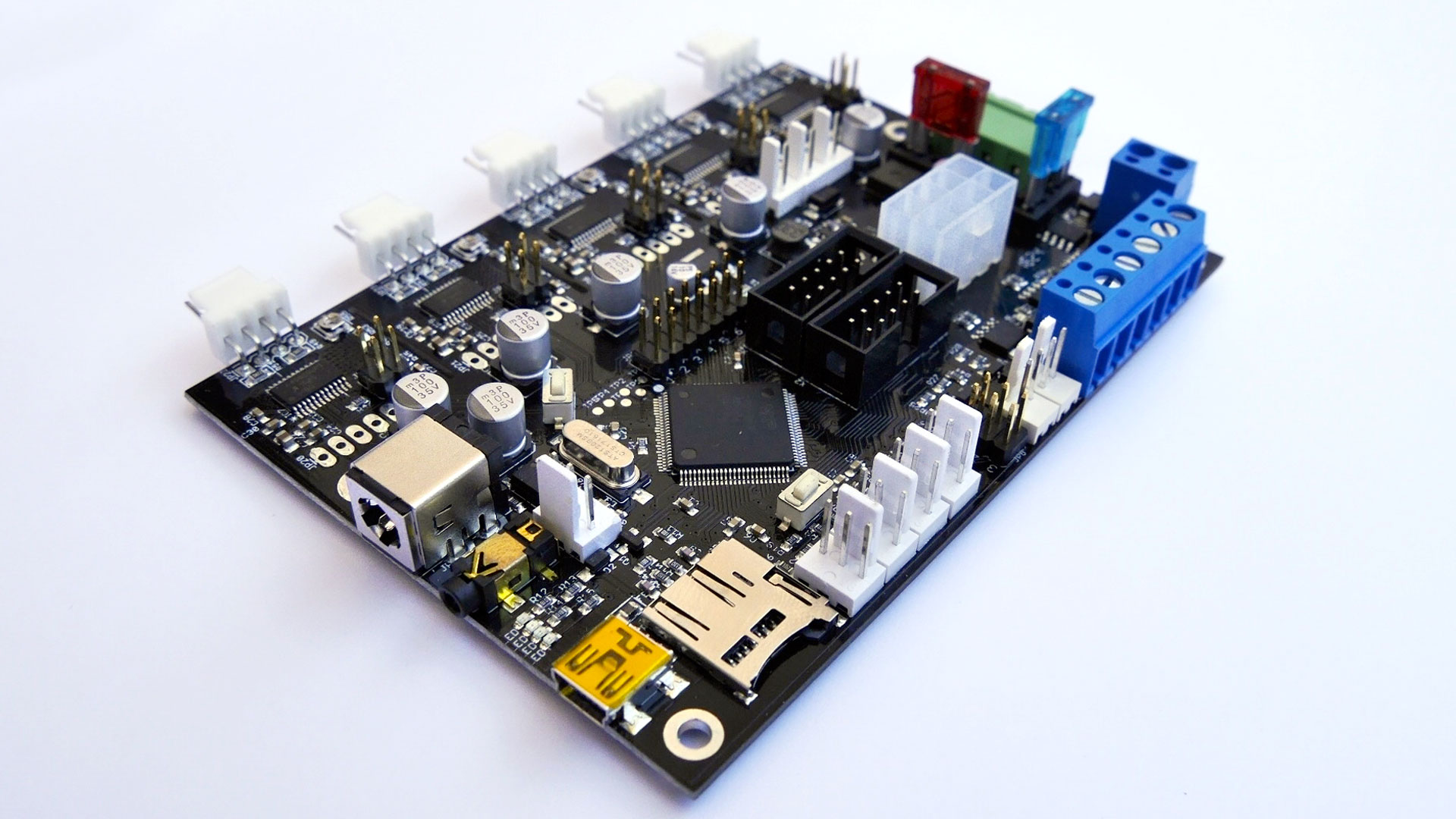 movements, that permit high speed moves without any loss of quality. Indeed, the eMotronic board, running at 96Mhz, enables a smoother calculation to pass from the carthsian space to the delta cynematic.
Dedicated to our MicroDelta Rework 3D printer, its on-front connectors and quick connect plug (beam) makes it easy to assembly and to use of this machine.
A strong and reliable structure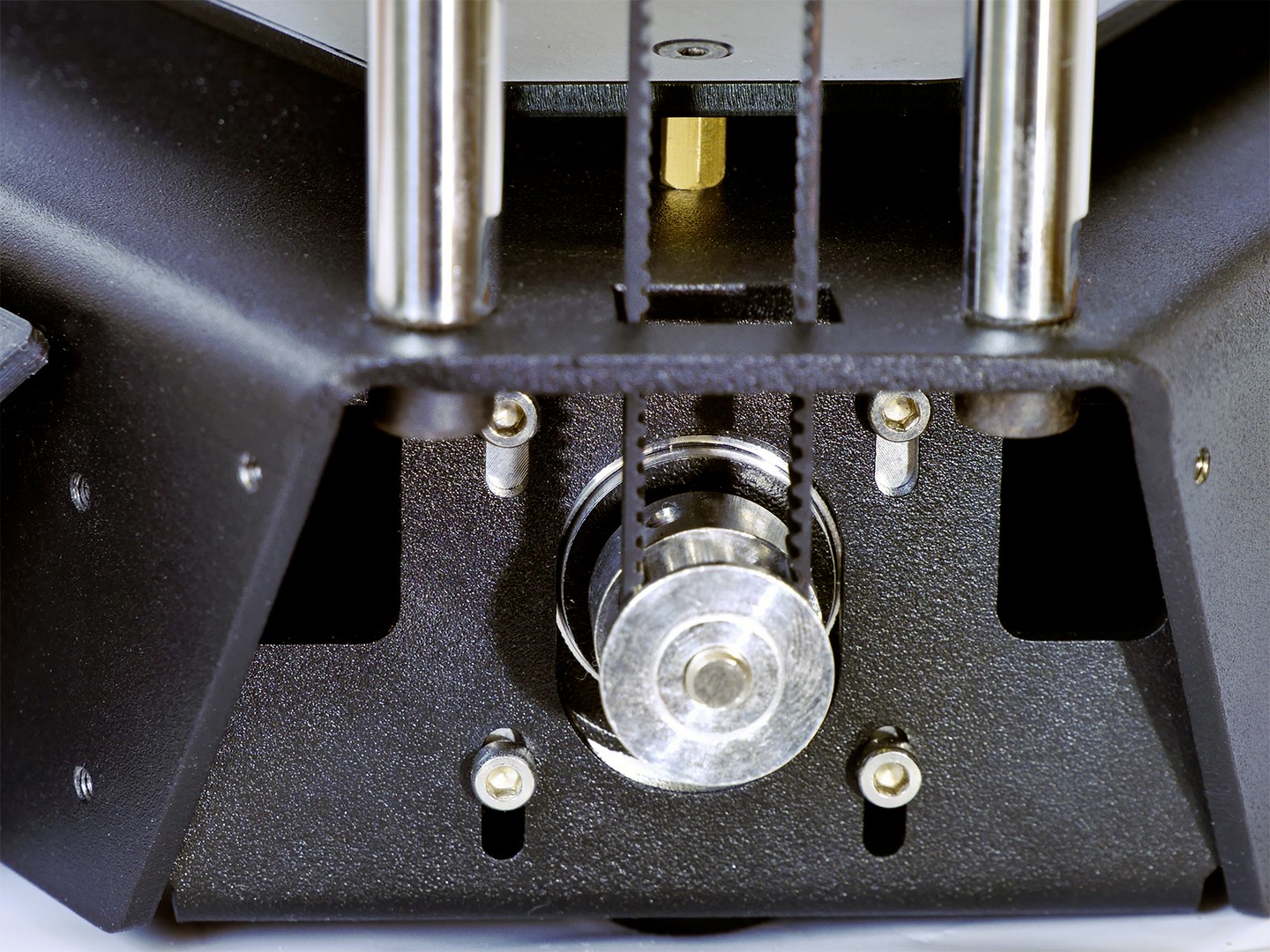 The structure is made by two folded steel blocks, that highly limit the quantity
of subassemblies and small parts to build it.
This procures a high rigidity and ease of assembly.
Professional transmission and guiding parts
Linear bearings have been replaced by slide bearings. Thanks to the feedback from the users of our former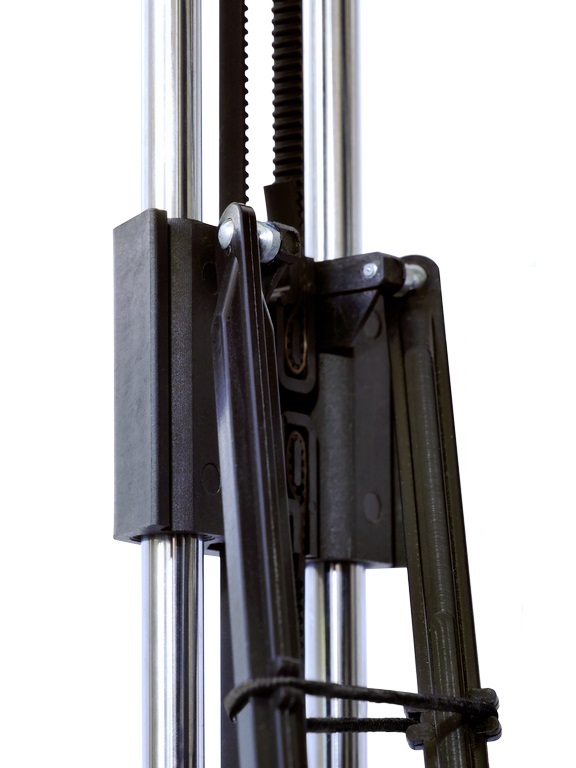 3D printer, we have chosen these bearings because of their long lifetime, and limit the wear of the guiding shafts.
We have chosen injection moulding to manufacture the linkages, that drasticly decrease the variance (the range in length between the 6 linkages), offering a perfect geometry of your printed parts.
The 10mm guiding shafts with threaded hole enable an ease of use and an increased rigidity of the machine.
The plastic injected sliders offer a perfect alignment between the bearings.
A sharper and reliable extrusion
A disengagable extrudor to take off or engage the filament with a simple fingers pressure.
Manual extrusion of the filament made by a molded wheel to have a very sharp flow.
No clearances or empty space on the path of the filament, so it's possible, even if it's a bowden extrudor, to print with every kind of filament available on the market, flexible filaments included.
+ EASY TO USE :
Intuitive assembly, ready to print in 3 hours
Auto-levelling
Aluminium machined extruder, fully compatible with every 1.75mm filaments available on the market
Free technical support
+ EVOLUTIVE :
Heatbed (up to 100°C)
Dual extrusion (multi-color or multi-material)
LCD controler with SD slot
+ ACCURATE :
Transmission parts (linkage rods and sliders) made with µm precision
Machined and chromed shafts
Suitable cooling for either small and large parts printing, and the use of technical filaments
+ TOUGH :
MicroDelta Rework has been conceived and produced using dedicated manufacturing methods such as machining, foldin, injection which provids an outstanding stability and rigidity.
No use of threaded rods, neither structural printed parts with random tolerances. At the eMotion Tech company, we first value the quality
+ FAST :
In order to get the best of the Delta cinematic, which already allows fast movements and high acceleration, we developped a 32 bits electronic board, clocked at 96Mhz, able to generate smarter and more eficient moves in compare with other 3D printers on the market.
Features :
External size : Hight : 530mm, Lenght :261mm, Depth : 285mm
Print volume : Ø 150mm / 200mm high
Layer thickness : from 100 to 350 microns depending on the print settings
Material : PLA (ABS, G-Fil, M-Fil, flexible filaments, with the heatbed add-on, and all available filaments with 1.75mm diameter)
Nominal print speed : >80mm/s
Max movement speed : 200mm/s
Nominal movement speed : 150mm/s
Average precision (X, Y) 100 microns
Average precision (Z) 50 microns
eMotronic electronic board, and micro SD card
Hexagon hotend (interchangeables nozzles)
0,4mm nozzle by default
Compatibles OS : Linux, Windows, Mac OS
Repetier firmware, preconfigured for the MicroDleta Rework
USB connectic
Power supply 24V 150W
The kit includes :
All the spare parts
A plastic sample (no plastic spool provided in the kit)
Detailed documentation
Feel free to download the manual in our download center, to get an idea of how to build it.
MicroDelta Rework add-ons to come :
In order to customize your printer or to make its use even more pleasant, it is possible to add different elements
Dual extrusion,
Casing
Possibility to get the 3D printer assembled, with CE marking, that respect the standard of a machine made by a third party